ABOUT US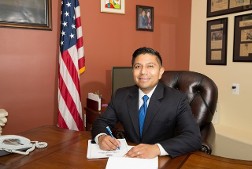 About us
The Law Office of Victor R. Ramirez provides personalized legal services for personal injury and criminal cases. With over 13 years of experience, Attorney Ramirez and his team will work hard for you to deliver the one-on-one attention you deserve and transmit the confidence you seek while ensuring you receive high quality service.
Victor R. Ramirez received a Bachelor of Arts at Frostburg State University and a Juris Doctor Degree at St. Thomas University School of Law in Miami, Fl. He then established this law firm in 2003 with a commitment to serve the general public.
Since then, Attorney Ramirez has represented Maryland's District 47. He is a member of the Maryland General Assembly. He served in the Maryland House Of Delegates for 8 years and currently serves as a Maryland State Senator from Prince George's County.
Attorney Ramirez strives to make a difference. As a member of the Maryland and Prince George's County Bar Associations, he has also worked pro bono for organizations like the House of Ruth, providing domestic violence victims with free legal representation in court. He also volunteered as an ESOL teacher, youth soccer coach, and youth mentor.
Contact our law firm to discuss your legal needs.